Highly anticipated TV anime 3rd season will premiere on July 8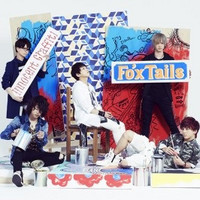 Lantis has posted a 90-second short music video for five-member rock band Fo'xTails' 2nd single "Innocent Graffiti" on its official YouTube channel. It will be used as the OP song for the upcoming third TV anime adaptation of Shungiku Nakamura's Boys Love manga series Junjo Romantica.
The band was formed in November 2013, then made their major debut from Lantis with 1st single "GLITTER DAYS," the 1st ED song for the Kuroko's Basketball TV anime third season, in February 2015. Their 2nd single CD will be available in Japan on July 22.
"Innocent Graffiti" short MV
Fo'xTails artist photo © Fo'xTails
"Junjo Romantica 3" latest PV
Premiere schedule:
July 8: Tokyo MX (25:05-), Sun TV (26:00-)
July 10: AT-X (23:30-)
July 12: TV Kanagawa (24:30-), Chiba TV (24:30-), TV Saitama (24:30-)
July 13: Gifu Housou (25:00-), BS11 (27:00-)
July 14: Mie TV Housou (26:20-), TVQ Kyushu Housou (27:05-)
Main voice cast
Takahiro Sakurai as Misaki Takahashi
Hikaru Hanada as Akihiko Usami
Nana Mizuki as Kaoruko Usami
Hiro Shimono as Mizuki Shiiba
Noriko Namiki as Eri Aikawa
Kisho Taniyama as Takahiro Takahashi
Hozumi Gouda as Kyo Ijuuin
Toshiyuki Toyonaga as Ryo Shizukuishi
Wataru Hatano as Shinnosuke
Todo Jurota Kosugi as Fuyuhiko Usami
Kousuke Toriumi as Haruhiko Usami
Source: Fo'xTails official website
(c)2008 Shungiku Nakamura, Kadokawa Shoten/Romantica Club!!
(c)2012 Shungiku Nakamura, Kadokawa Shoten/10th Romantica Club!!
(c)2015 Shungiku Nakamura/KADOKAWA Kadokawa Shoten/Romantica Club!!