Containing a pilot film produced over 40 years agao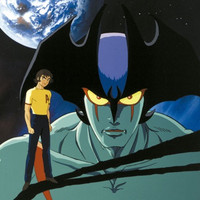 Toei has announced that it will release "Devilman Blu-ray COLLECTION," a seven-Blu-ray disc box set of the 1972-73 TV anime adaptation of one of Go Nagai's representative manga works in the 1970s, on October 7, 2015. The TV anime, which aimed toward much younger viewers than the readers of Nagai's original manga, was produced by Toei Animation and aired for 39 episodes from July 1972 to March 1973.
Purchasers can watch the episodes in two formats: the original on-air version aired by its key station and the re-run version by local stations. A two-minute and 15-second pilot film is also included for the first time. The bonus disc contains "Devilman Memorial" (60 minutes), which was originally released in VHS and Laser Disc in 1999 and has never been released in DVD. The box's outer jacket illustration is newly drawn by Kazuhiro Ochi (Angel Tales, PoPoLoCrois). The price for the set id 48,600 yen (about 393 US dollars).
TV anime "Devilman" visual
---
Also as reported, Dynamic Planning announced that a new anime adaptation of Devilman is in the works
for an event screening this fall. Tokyo-based company Actas, best known for its recent mega hit series Girls
und Panzer, works on anime production.
Key visual
Source: Toei Video via Comic Natalie
(c)GO NAGAI/DynamicPlanning