Multiple panels and events scheduled during convention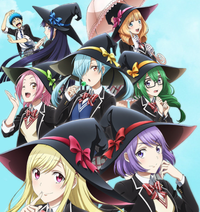 Miki Yoshikawa - Photo and © by Takahiro Kagawa
Miki Yoshikawa is a Japanese manga author and artist most known for her work on Yamada-kun. Yoshikawa made her pro manga debut in 2003 with Glory Days, a one-shot in Kodansha's Magazine Special. After a stint as an assistant for Hiro Mashima (Fairy Tail), she published another one-shot, Yankee-kun to Megane-chan, in Shonen Magazine Wonder in 2005. Thanks to its deft comedic touch, Yankee-kun went on to become first a short series and then later Yoshikawa's first long-running series in Weekly Shonen Magazine. It was adapted into a live-action drama in 2010-11.
Yoshikawa's current and best known work is
Yamada-kun and the Seven Witches
, which started serialization in 2012 and has since sold more than 3 million copies. The manga is currently published by Kodansha Comics in the U.S. It's been adapted into a live-action drama in 2013, and a TV anime in 2015. Both the anime and the manga are currently streaming exclusively on Crunchyroll, where it is one of the site's most popular titles in both formats.
MIKI YOSHIKAWA'S ANIME EXPO SCHEDULE:
Friday, July 3rd

:

3PM-3:30PM

- Interview and Q&A on the Crunchyroll stage (booth #1001)!
Friday, July 3rd

:

3:30PM-4:30PM

- Live drawing on the Crunchyroll stage (booth #1001)!
Saturday, July 4th

:

12:15PM-1:15PM

- Miki Yoshikawa Panel in panel room LP5 (409AB)!
Saturday, July 4th

:

1:45PM-2:45PM

- Autograph session in Kentia Hall!
July 1st Update: In addition, Kodansha Comics will be making available a limited-supply AX 2015 EXCLUSIVE SHIKISHI (signing board) to fans who come by the the Kodansha booth (#324). Details on how to get a Shikishi will be posted at kodanshacomics.com.
Crunchyroll will be handing out EXCLUSIVE Yamada-kun and the Seven Witches posters at the Crunchyroll booth all weekend. These posters have an original Yamada-kun drawing done by Miki Yoshikawa! Just stop by our booth (#1001) to pick one up.
INSTRUCTIONS ON GETTING YOUR TICKET TO THE AUTOGRAPH SIGNING - You must have a ticket to attend!
Tickets can be picked up at the Concourse Foyer starting at 8AM on Saturday, and will be distributed on a first-come, first-served basis. Early arrival is highly suggested. The start of the line will be outside of the building, and attendees will be led into the hall just before 8AM.
In addition, Kodansha Comics will release a special Yamada-kun app, containing the manga and special messages from Yoshikawa to her English-language fans, in time with her appearance at Anime Expo. Details on the app, which will be produced by Kodansha Advanced Media, will be released closer to the event. Stay tuned to
kodanshacomics.com
.