Stretch goals to reprint "Unico" and print "Crime and Punishment" also offered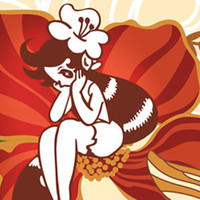 Digital Manga, Inc. has announced that, following successful Kickstarter campaigns like Captain Ken, Lugwig B, Alabaster, and the recent Clockwork Apple, their next project to crowd fund the works of "God of Manga" Osamu Tezuka aims to translate his shojo (girl's) title Storm Fairy. This manga is a collection of three short stories with the first being the longest at the length of half the book, and the other two making up the rest. If the campaign running 30 days starting June 16th is successful, the book will be scheduled for October 2015.
DMP says

In Storm Fairy, Kuwagata Castle is in the midst of being invaded by enemy forces and the Empress flees to a nearby forest to implore a forest fairy to save her husband and her kingdom. A deal was struck and in exchange for the fairy's favor, the empress must give up the face of her next born child. Thus, two girls life become entwined, one who has to wear a mask to hide her disfigured face, another born with the face of the other. One day, while the Emperor and Empress are away, a usurper finds out about Princess Ruri's curse and steals her mask so he can place his own daughter on the throne. They oust Princess Ruri from her kingdom, and while on the run she meets a samurai, Tonosuke, who takes pity on her and takes her under his wing. Hakobe, the forest fairy blessed with another woman's face, is tasked with tricking unwary travelers but her sweet heart always leads her to help others. While on a trip into the town, she finds out the real Princess Ruri is on the run and decides to help her win back her kingdom. But, little does she know, she wears the face of the woman she's trying to save...

The second short story, "Kokeshi Detective Agency," has a similar tone and feel to young adult book series, Encyclopedia Brown. Little fearless Paco goes around solving mysteries for she is not afraid of things that go bump in the night while her dog friend Waco does his best to protect her. In the third story, fairy Pink from the realm of beautiful sunsets morphs into whatever she wants so she may help those who are unhappy and in need, but King Brown and Sepia from the realm of thunderstorms do their best to make people miserable.
The stretch goal at $26,000 is to reprint Tezuka's Unico. They promise more information once the $14,000 is raised for Storm Fairy.
At $32,500, they'll print Tezuka's adaption of Crime and Punishment, which they've previously offered digitally.
------
Scott Green is editor and reporter for anime and manga at geek entertainment site Ain't It Cool News. Follow him on Twitter at @aicnanime.