Which Legendary will you choose?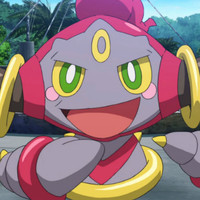 The Pokémon Company has introduced a new commercial for Pokémon the Movie: Hoopa and the Clash of Ages, which will be releasing alongside a special campaign in Japan. It's one you'll wanna get in on if you live there, so you might want to pay attention!
The promotion will allow anyone who has purchased tickets or will purchase them to use a special code to receive a level 100 Arceus as well as one of six Legendary Pokémon for use in-game out of a choice of Kyogre, Giratina, Kyurem, Groudon, Dialga, or Palkia.
The movie will be premiering on July 18. Hopefully it'll get an English release too, and we can actually get our hands on Hoopa! Where's the code for Hoopa, huh?
[via Anime News Network]
-------
Fueled by horror, rainbow-sugar-pixel-rushes, and video games, Brittany is a freelancer who thrives on surrealism and ultraviolence. Follow her on Twitter @MolotovCupcake and check out her portfolio for more.