Saori Hayami, Kensho Ono, Daisuke Namikawa Join the cast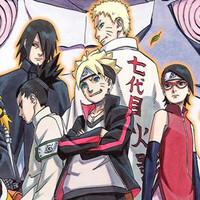 The first two million audience of the upcoming anime film Boruto -Naruto The Movie- will receive a special booklet "Naruto - Hiden Zai no Sho Official Movie Book" which contains a short manga episode "The Day When Naruto Became Hokage" newly drawn by the original author Masashi Kishimoto, and a full color edition of the manga's final 700th episode which was originally published in the 50th issue of Shueisha's Weekly Shonen Jump in 2014.
Six additional cast for the film are also confirmed:
Mitsuki (a team member with Boruto and Sarada):
Ryuichi Kijima (Tetsuya Kitano in Space Battleship Yamato 2199)
Inojin Yamanaka (Sai and Ino's son):
Atsushi Abe (Touma Kamijo in A Certain Magical Index)
Shikadai Nara (Shikamaru and Temari's son):
Kensho Ono (Tetsuya Kuroko in Kuroko's Basketball)
Himawari Uzumaki (Naruto ans Hinata's daughter):
Saori Hayami (Ayase Aragaki in Ore no Imouto ga Konna ni Kawaii Wake ga Nai)
Momoshiki (a mysterious man who attacks Konohagakure no Sato)
Daisuke Namikawa (Goemon Ishikawa in Lupin The Third)
Kinshiki (Momoshil's royal vassal):
Hiroki Yasumoto (Agil in Sword Art Online)
Boruto -Naruto The Movie- is set for a release in Japan on August 7, distributed by Toho. Advance tickets with
two-type sensu (folding fan) also illustrated by Kishimoto will go on sale on June 27.
Poster visual
Teaser trailer
via: Comic Natalie
(c) Masashi Kishimoto, Scott/Shueisha, TV Tokyom Pierrot
(c) Movie Boruto Production Committee 2015