The 119-minute version will be released on October 10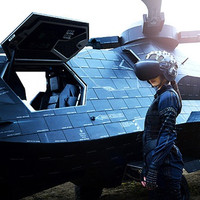 A poster visual for the director's cut edition of Mamoru Oshii's live-action feature film The Next Generation -Patlabor- Shuto Kessen has been revealed to Japanese media. It features Rei Haibara, the terrorist pilot of JGSDF's latest Gray Ghost stealth combat helicopter. The character is played by 26-year-old Kanna Mori, who is best known as Natsumi Hikari, the main heroine of the tenth Heisei Rider series, Kamen Rider Decade in 2009.
The theatrical edition was released on May 1, 2015, but it was panned by critics and bombed terribly at the box office. The director's cut edition will add 27-minute unseen footage deleted from the theatrical edition, which include the untold mystery around Rei and more scenes of the members of Special Vehicle Section 2 in the battle. Its total screening time is expected be 119 minutes. It will open in Japan on October 10, 2015. The poster says, "Here is the Patlabor that Oshii truly wanted to show."
Poster visual
60-second trailer for the theatrical edition
Poster visual for the theatrical edition
via: Cinema Topics Online
© 2014 "THE NEXT GENERATION -PATLABOR-" Production Committee