Directed by Norihiro Koizumi (Kanojo wa Uso o Aishisugiteru)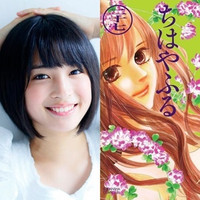 It is officially conformed today that 17-year-old fashion model/actress Suzu Hirose is set to play the protagonist Chihaya Ayase in the upcoming two-part live-action film adaptation of Yuki Suetsugu's shoujo manga series Chihayafuru. It will be her first leading role in feature films.
She recently played Suzu Asano in the live-action film adaptation of Akimi Yoshida's awards-winning manga Umimachi Diary (Seaside Town Diary) along with Ayase Haruka, and made her voice actress debut in Mamoru Hosoda's fourth anime feature Bakemono no Ko/The Boy and The Beast as the main heroine Kaede.
34-year-old Norihiro Koizumi, who previously directed a live-action film adaptation of Kotomi Aoki's shoujo manga Kanojo wa Uso o Aishisugiteru in 2013, takes the director's chair for the two-part films. The first part "Chihayafuru: Kami no Ku (The First Line)" is set for a release in March 2016, then the
second part "Chihayafuru: Shimo no Ku (The Second Line)" will follow in the following month.
The competitive karuta-themed maga has been serialized in Kodansha's bi-weekly magazine BE LOVE
since 2008, and currently 27 tankobon volumes are available in Japan. It won the 35th Kodansha Manga
Award's Shoujo Manga Award in 2011. As of December 2014, it has 12 million copies in print in Japan.
Madhouse-produced two TV anime adaptations were aired in October 2011 to March 2012, and January to
June 2013, for 50 episodes in total.
Suzu Hirose
Manga 1st and 27th volume cover
via: Daily Sports
© FOSTER co.,ltd/FOSTER plus co.,ltd
© Yuki Suetsugu/Kodansha