Conversation video between the manga author and anime director is posted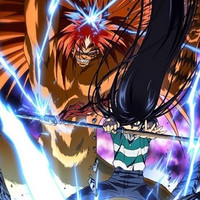 The official website for the upcoming TV anime adaptation of Kazuhiro Fujita's Ushio to Tora (Ushio and Tora) manga today announced its episode count, which is now set at 39, and on-air schedule.
The first 26 will be aired from this July to December, then after three months break, the last 13 will follow from April to June in 2016. It is also confirmed that the TV anime adaptation will cover till the end of the manga story with 33 tankobon volumes, the final showdown with Hakumen no Mono. The first episode will premiere on Tokyo MX on July 3.
The website has also posted a six-minute conversation video between the manga author Fujita and the TV anime director Satoshi Nishimura ((Trigun, Hajime no Ippo). Fujita says that all of the episodes adapted into this TV anime were chosen by himself and he is very satisfied with the voice cast, especially Tasuku Hatanaka (Ushio Akatsuki) and Tora (Rikiya Koyama).
TV anime PV
Main visuals
Source: "Ushio to Tora" TV anime official website
© Kazuhiro Fujita, Shogakukan/Ushio to Tora Production Committee