Lasst die Blümchen blü...eh, kämpfen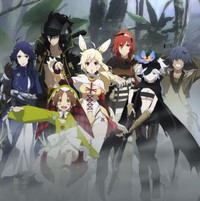 Unser erstes Announcement für die neue Season ist angekommen und dürfte besonders interessant für alle Leute mit grünem Daumen sein: Wir freuen uns, euch Rokka -Braves of the Six Flowers- präsentieren zu dürfen.
Frisch aus dem Hause Passione, bekannt für die Zugliebhaberserie Rail Wars!, erwartet euch hier Fantasy-Action mit Spice and Wolf-Regisseur Takeo Takahashi an der Spitze. Die erste Folge wird am Samstag, dem 4. Juli um 21:30 Uhr freigeschaltet und iher könnt sie dann hier einsehen.
Inhalt:
Die Legende besagt, dass wenn die Finstre Gottheit sich aus den Tiefen der Düsternis erhebt, wird der Gott des Schickals sechs Tapfre beschwören und ihnen die Macht verleihen, die Welt zu retten.
Adlet, welcher behauptet, der Stärkste zu sein, der auf dem Antlitz der Erde wandelt, wird als einer der "Tapfren Sechs Blumen" erwählt und macht sich auf in den Kampf um die Auferstehung der Finstren Gottheit zu verhindern. Doch erstaunlicherweise finden sich sechs Tapfere im versprochenen Land ein...
Die Sieben Tapfren bemerken, dass sich ein Feind unter ihnen befinden muss und Misstrauen macht sich in der Gruppe breit. Und ausgerechnet Adlet wird als Erster verdächtigt!
So beginnt ein fantastisches Abenteuer, in welchem Mysterium auf Mysterium folgt...