First episode will premiere on MBS on July 26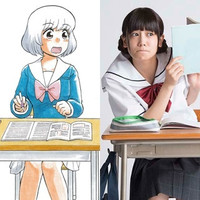 Following 21-year-old Yutaro Watanabe as Toshinari Seki, it is also confirmed that 20-year-old actress/fashion model Fumika Shimizu is cast as the female protagonist Rumi Yokoi in the upcoming live-action TV drama adaptation of Takuma Morishige's school comedy manga Tonari no Seki-kun. She is best known as Yuki Jojima, the main heroine in the 13th Heisei Rider series, Kamen Rider Fourze, aired in Japan from September 2011 to August 2012.
The two TV drama adaptations, Tonari no Seki-kun and Rumi-chan no Jishou based on Katsunori Hara's manga series, will be aired together for eight episodes in a 30-minute block. They are scheduled to premiere first on MBS at 24:50 on July 26, then at TBS at 25:11 on July 28.
Fumika Shimizu as Rumi Yokoi
"SHIMIZU FUMIKA 1st Photobook" published in May 2013
Toshinari Seki/Yutaro Watanabe
"Tonari no Seki-kun" 1st and 7th volume (c) Takuma Morishige
via: Comic Natalie