"PriPara" three-disc best album tops the chart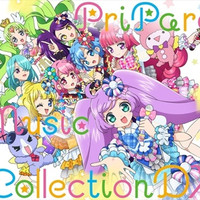 The TOWER RECORDS Shinjuku store in Tokyo has announced the weekly TOP 10 anime singles/albums for the week of June 15-21. The number one album of the 24th week of the year 2015 was "PriPara Music Collection DX" released on June 17. The three-disc best album contains 17 songs, soundtrack music, textless OP/EDs, and live footage from the first season of the PriPara TV anime series aired from July 2014 to March 2015. The CD album also ranked 16th in the Oricon weekly album chart selling 5,267 units in its first week.
Weekly Top 10 Ranking (June 15-21, 2015)
1 (new). "PriPara Music Collection DX" 
2 (new). "Anata wo Tamotsu Mono/Mata Ugoku"
Maaya Sakamoto/Cornelius 
(Ghost in the Shell: Arise - Alternative Architecture/Shin Gekijouban theme songs)
3 (new). "JAM Project BEST COLLECTION XI X less force"
JAM Project (11th best album)
"Breakthrough"
4 (new). "Idol Kinryoku♥Lesson GO!"
Laala With Prism☆Idol Kenkyūsei's (PriPara 2nd season ED)
5 (new). "Koukaku Kidoutai Shin Gekijouban O.S.T. by Cornelius"  
Cornelius
6 (new). "Time Capsule"
Megumi Hayashibara (6th best album)
7 (4). "μ's Best Album Best Live! Collection II"
μ's (2nd best album)
8 (7). "Haru Modoki"
Nagi Yanagi (10th single/My Teen Romantic Comedy SNAFU TOO! OP)
9 (new). "One step forward" 
Trignal (2nd mini album)
10 (new). "Party Man"
Yuuki Ono (1st mini album)
* all of the CMs/PVs in this article are legitimately posted on YouTube by the copyright holders/distributors.
---
2015 archive
TOWER RECORDS Shinjuku Weekly Anime Song TOP 10 December 22 - January 11
TOWER RECORDS Shinjuku Weekly Anime Song TOP 10 January 12-18
TOWER RECORDS Shinjuku Weekly Anime Song TOP 10 January 19-25
TOWER RECORDS Shinjuku Weekly Anime Song TOP 10 January 26-February 1
TOWER RECORDS Shinjuku Weekly Anime Song TOP 10 February 2-8
TOWER RECORDS Shinjuku Weekly Anime Song TOP 10 February 9-15
TOWER RECORDS Shinjuku Weekly Anime Song TOP 10 February 16-22
TOWER RECORDS Shinjuku Weekly Anime Song TOP 10 February 23-March 1
TOWER RECORDS Shinjuku Weekly Anime Song TOP 10 March 2-8
TOWER RECORDS Shinjuku Weekly Anime Song TOP 10 March 9-22
TOWER RECORDS Shinjuku Weekly Anime Song TOP 10 March 23-29
TOWER RECORDS Shinjuku Weekly Anime Song TOP 10 March 30 - April 5
TOWER RECORDS Shinjuku Weekly Anime Song TOP 10 April 6-12
TOWER RECORDS Shinjuku Weekly Anime Song TOP 10 April 13-19
TOWER RECORDS Shinjuku Weekly Anime Song TOP 10 April 27-May 3
TOWER RECORDS Shinjuku Weekly Anime Song TOP 10 May 4-17
TOWER RECORDS Shinjuku Weekly Anime Song TOP 10 May 18-24
TOWER RECORDS Shinjuku Weekly Anime Song TOP 10 May 25-31
TOWER RECORDS Shinjuku Weekly Anime Song TOP 10 June 1-7
TOWER RECORDS Shinjuku Weekly Anime Song TOP 10 June 8-14
Source: Mantan Web