Versatile enough to wear as cosplay-lite or out for a nice dinner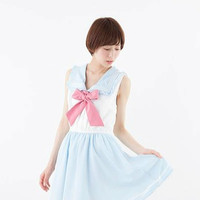 SuperGroupies is a company that truly knows its fans, producing item after item of otaku-themed goodness that's also super fashionable. Sailor Moon fans have gotten a lot of love from the brand as well, including pajamas, loungewear, purses, and more since the debut of Sailor Moon Crystal.
The latest product line from "Tralala" includes a set of Sailor Moon-inspired daywear with dresses, sweaters, and skirts that don't only showcase a love for the popular shoujo series, but act as gorgeous pieces to complete your wardrobe with.
The line features dresses that run about 8,900 yen, pastel blouses featuring Chibiusa's key for 6,900 yen, cardigans with Luna and Artemis for 5,900 yen, and skirts that feature Luna and Artemis as well for 6,900 yen. The items are expected to be delivered near the end of June.
Which one is your favorite?
[via SuperGroupies]
-------
Fueled by horror, rainbow-sugar-pixel-rushes, and video games, Brittany is a freelancer who thrives on surrealism and ultraviolence. Follow her on Twitter @MolotovCupcake and check out her portfolio for more.