24.7 percent up from the last year's "Robot Dad Strikes Back"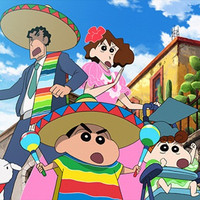 It was confirmed that the 23rd Crayon Shin-can film, Crayon Shin-Chan: My Moving Story! Cactus Large Attack!, had earned 2,225,385,300 yen on 1,904,603 admissions by June 27, in 71 days since its Japanese release on April 18, becoming the top-grossing film in the 23-year-old anime franchise. The previous record holder was the 1st film Action Kamen vs Leotard Devil with 2.22 billion yen released in July 1993. The 23rd film has already grossed 124.7 percent of the last year's Serious Battle! Robot Dad Strikes Back.
Another anime film released in Japan on the same day, the 19th Detective Conan film Sunflowers of Inferno earned 4.148 billion yen from 3,319,000 ticket sales in 37 days from its opening, also became the most successful film in the Conan anime franchise.
Trailer
Poster visual
Source: Oricon Style