Masataka Kubouta starring drama will be available on Crunchyroll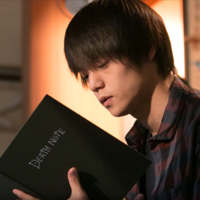 Nihon TV/Nippon TV has posted the synopsis of the first episode of the upcoming live-action TV drama adaptation of the Death Note manga series created by Tsugumi Ohba (story) and Takeshi Obata (art). The story's setting is very different from the original, and has mage the fans of the series very confused.
Unlike the manga and its live-action film adaptations, the protagonist Light Yagami (Masataka Kubota) is portrayed as an ordinary university student who lives with his father Soichiro (Yutaka Matsushige) and sister Sayu (Reiko Fujiwara). He has been busy with his study and part-time job, except when he goes to the live concerts of the idol group Ichigo Berry, and Misa Amane (Hinako Sano) is one of its members. In the original story, Misa was a passionate supporter of Light/Kira, but in the TV drama, their relationship seems opposite.
The live-action TV drama series kicks off with a 90-minute long first episode on July 8 at 7:30pm Pacific
Time. It will be available to Crunchyroll members in the following territories: USA (and Canada, Central
and South America (including the Carribean), UK, Ireland, Denmark, Finland, Norway, Sweden, Iceland,
the Netherlands, South Africa, Australia, New Zealand, Russia, Europe (except for Italian speaking territories),
the Middle East, and North Africa.
Hinako Sano posted her photo as Misa on Twitter
デスノートファンが愛する"ミサミサ"をドラマで演じる佐野ひなこ 「自分が一番厳しいファンかも? ミサミサはもっと細いのに~」 | 週プレNews http://t.co/IV2gk9nwaH 7月5日まであとすこしー!✨ pic.twitter.com/4OsqeKkh92

— 佐野ひなこ (@hinachimuu) July 1, 2015
Announced main cast:
Light Yagami: Masataka Kubota
L: Kento Yamazaki
Near: Mio Yuuki
Misa Amane: Hinako Sano
Sayu Yagami: Reiko Fujiwara
Soichiro Yagami: Yutaka Matsusige
Akiko Himura: Megumi Seki
Touta Matsuda: Gouki Maeda
Shuichi Aizawa: Tomohisa Yuge
Kanzo Mogi: Jiro Sato
Watari: Kazuaki Hankai
(from left) Kento Yamazaki as L, Masataka Kubota as Light Yagami, Mio Yuuki as Near