Begins streaming 8/1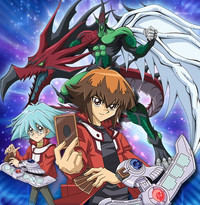 Break out your Elemental Hero deck and get ready to duel! More Yu-Gi-Oh! is comin' to Crunchyroll, now with English subtitles in tow, as the subbed version of Yu-Gi-Oh! GX is set to begin streaming next month!
Yu-Gi-Oh! GX is already streaming on Crunchyroll in its English dub incarnation, but August 1st will be the debut of the English subtitled version! Additional details will be announced at a future date.
Story
Set several years after the previous Yu-Gi-Oh! series, GX follows a new generation of duelists at the prestigious Duel Academy—a highly competitive boarding school where pencils and books have been replaced by Duel Disks and monster cards! Still, it's not just about making the grade for these up and coming students – it's about becoming the next King of Games!
Yu-Gi-Oh! GX (subtitled) will be available to Crunchyroll WORLDWIDE except: Afghanistan, Bangladesh, Bhutan, Brunei, Cambodia, China, Hong Kong, India, Indonesia, Japan, North Korea, South Korea, Laos, Macao, Malaysia, Maldives, Mongolia, Myanmar, Nepal, Pakistan, Papua New Guinea, Philippines, Samoa (Western), Singapore, Sri Lanka, Taiwan, Thailand, Vietnam, Italy, San Marino and Vatican City.