New summer 2015 shows, catalog series, and beyond announced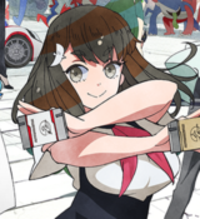 Crunchyroll announced a handful of new titles during its Anime Expo 2015 panel this morning, including additional summer 2015 shows, catalog additions, and more.
New summer 2015 simulcasts include Monster Musume, Non Non Biyori Repeat, Teekyu 5, To Love Ru Darkness 2, and Gatchaman Crowds Insight.
Monster Musume - Everyday Life with Monster Girls starts on July 7 at 9:30am Pacific Time, with new episodes to debut every Tuesday. The series will be available to Crunchyroll members in the following territories: USA, Canada, UK, Irelands, South Africa, Australia, New Zealand, Latin America, the Netherlands, Scandinavia, and Turkey.
Synopsis:
Monsters: they're real, and they want to date us!
Three years ago, the world learned that harpies, centaurs, catgirls, and all manners of fabulous creatures are not merely fiction; they are flesh and blood - not to mention scale, feather, horn, and fang. Thanks to the "Cultural Exchange Between Species Act," these once-mythical creatures have assimilated into society, or at least, they're trying.
When a hapless human teenager named Kurusu Kimihito is inducted as a "volunteer" into the government exchange program, his world is turned upside down. A snake-like lamia named Miia comes to live with him, and it is Kurusu's job to take care of her and make sure she integrates into his everyday life.
Unfortunately for Kurusu, Miia is undeniably sexy, and the law against interspecies breeding is very strict. Even worse, when a ravishing centaur girl and a flirtatious harpy move in, what's a full-blooded teenage human with raging hormones to do?!
Non Non Biyori Repeat episodes are set to broadcast every Monday starting July 6 at 12:00pm Pacific Time, and we'll follow up with regions shortly.
Synopsis:
The slow-paced yet heartwarming life of the four girls in the tiny Asahioka Branch School continues as Natsumi, Komari, Renge, and Hotaru attend school in the one-room schoolhouse that holds only 5 students. Although the laid-back environment and atmosphere is a big change for Hotaru, who came from bustling Tokyo, there's just something charming and calming about life in the Japanese countryside.
The cast returns for the sequel with Ayane Sakura as Natsumi, Kana Asumi as Komari, Kotori Koiwai as Renge, and Rie Murakawa as Hotaru. All four voice actresses also sing the ending song "Okaeri", which means "welcome back" in Japanese, while nano.RIPE performs the opening song "Kodama Kotodama".
Teekyu 5 will continue in the same time slot, with new episodes to run every Monday starting July 5 at 10:30am Pacific Time for members in North America, South America, Canada, United Kingdom, Ireland, South Africa, Australia, New Zealand, Denmark, Finland, Netherlands, Norway, and Sweden.
To Love Ru Darkness 2 starts on July 8 at 1:00pm Pacific Time, with new episodes debuting every Wednesday for members in the United States and Canada.
Synopsis:
Rito Yuki has more women in his life than he knows what to do with. In case it wasn't enough to have all three Devilukean princesses under one roof, he now has alien girls from all over the galaxy attending his school, too! But when the arrival of a mysterious red-haired girl threatens one of their own, Rito and the girls must stand up to a powerful adversary- the likes of which they've never seen before.
The second season of the sexy adventures of Rito Yuki and the aliens girls that keep showing up in his vicinity continue in To Love Ru Darkness 2! Animation studio XEBEC will be returning to handle animation production, and the case reprises their roles once again, with Akeno Watanabe as Rito Yuki, Aki Toyosaki as Momo Velia Deviluke, Misato Fukuen as Golden Darkness, and Yuka Iguchi as Mea Kurosaki.
Finally, Gatchaman Crowds Insight will broadcast every Saturday starting July 4 at 12:00pm Pacific Time. Episode 0 will be available at the same time as episode 1.
The anime sequel will be available to Crunchyroll members in the following territories: United States (and its territories), Canada, Central and South America (including the Caribbean), Australia and New Zealand, South Africa, Europe, and the Middle East and North Africa.
Synopsis:
Now a year after the so-called Tachikawa Incident in the summer of 2015, the CROWDS ability--a gift from Berg Katze to Ninomiya Rui, the ability to give the human mind shape and form--is widespread among the masses. The use of the ability is acknowledged and promoted by the Japanese Prime Minister himself, but he faces mounting frustration and suspicion from those who bear ill will against the CROWDS. One day, the prime minister's flight is attacked by a mysterious group. The time has come for the winged warriors to stride into battle once more...
Coming this summer and beyond, Crunchyroll announced some new acquisitions, including Symphogear GX, The Perfect Insider (October), and Million Doll.
Some key art and info for some of the upcoming shows:
Million Doll centers on an idol-loving hikkomori named Suko who has a special ability. She can make any idol popular just by writing about them on her blog! One day, while being forced to go to the supermarket by her sister, she happens to see a live performance from the Fukuoka based idol group "Itrio." Suko decides that she will do everything in her power to push them into stardom. Unfortunately, she has compete with the charismatic otaku blogger Ryu-san who supports the underground idol Mariko!
-------
Joseph Luster is the Games and Web editor at Otaku USA Magazine. His first mini-comic, SLIME, is now available. His blog can be found at subhumanzoids. Follow him on Twitter @Moldilox.