First arrest case for pirated "Love Live!" merchandise in Japan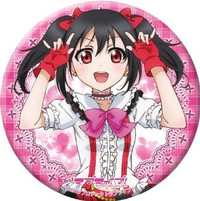 A joint investigation team of Ibaraki and Kagoshima Prefectural Police arrested a 44-year-old man from Kagoshima-city, who self-proclaimed as an online retailer, on suspicion of copyright infringement and trademark infringement on July 6. According to the police, the suspect sold 13 badges using the character images and the title logo of the popular anime series Love Live!, which were made without the permission from the copyright holder, on a famous online shopping site on April 3. Sunrise, the copyright holder of the franchise, already found his crime in March and had reported it to the police.
He has admitted the charge and said that he earned 500,000 yen (about 4,000 US dollars) in a month at the busiest time. The police found about 700 pirated badges at his house, and suspects from the records of his bank account that he earned over 2 million yen (16,300 US dollars) between the end of the last year and this April. Though the legitimate items are made of metal and have been sold at the price of 600 yen for one, he offered the fake ones made of plastic at 1,280 yen for the set of four.
This is the first arrest case for pirated Love Live! merchandise in Japan.
Source: Sankei, Yomiuri, Asahi , Mainichi
* the thumbnail image is from the legitimate tin badge manufactured by Broccoli.
© 2013 Project love Live!
---
Related:
Police Arrested Man Who Posted Robot Anime Videos, Theme Songs
50-Year-Old Unemployed Man Arrested for Uploading Manga via PerfectDark
High School Teacher Arrested for Uploading "Kuroko's Basketball" Manga
Unemployed Man Arrested for Uploading "Liar Game" Manga
40 People Arrested for Illegal Uploading of Anime, TV Drama in 3 Days
45-Year-Old Man Arrested for Selling Pirated Anime Stickers in Akihabara
Government Official Arrested for Posting "Gundam Unicorn" Episodes onto Video Sharing Site FC2
48-year-old Man Arrested for Uploading "Yo-Kai Watch" Anime Episode
Man Arrested for Selling One Dollar Bills with "One Piece" Images
46-year-old Unemployed Man Arrested for Posting "Maken-Ki! Two" on Video Sharing Site FC2
Two Japanese Men Arrested for Uploading "Berserk," "K-ON!" Manga
Man Arrested for Uploading "Attack on Titan" Manga 10th Volume
Man Arrested for Posting "Crayon Shin-chan" and "Black Jack" Anime on Video Sharing Site FC2
39-year-old Man Arrested for Uploading "Attack on Titan," "One Piece" TV Anime Episodes
Chinese Man Arrested for Selling Pirated Boa Hancock Figures