The search engine giant Google presented a special tribute to tokusatsu master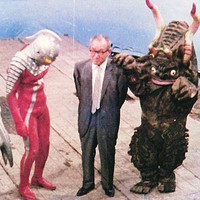 The search engine giant Google presented a special "Doodle" logo today in celebration of the 114th birthday of Eiji Tsuburaya (1901-1970), special effects wizard and founder of Tsuburaya Productions. During his tokusatsu career, Tsuburaya teamed with director Ishirō Honda and producer Tomoyuki Tanaka to create the Godzilla film series at Toho, then, at his own Tsuburaya Productions effects house, introduced 1966's Ultra Q and Ultraman.
See the interactive version here!
Google shows "Doodle" to celebrate Eiji Tsuburaya's birthday! http://t.co/7qB6u9D1W4 http://t.co/ggdLA5h3Jd pic.twitter.com/7aaLetMtPK

— 円谷プロダクション (@tsuburayaprod) July 7, 2015
The lights dim. Cameras start to roll. A film crew silently watches. Suddenly! From behind a hand-built skyline, a towering beast appears! Shaking off a layer of dust, the massive foam-and-rubber monster leans back to act out an amazing roar (the sound effect will be added in later). Then, stomping towards the camera, the giant moves closer, and closer, until…"Cut!"
Seen this film before? This live action genre, known as "Tokusatsu" (特撮) in Japanese, is unmistakable in its style, and still evident in many modern beast-based thrillers. In today's Doodle, we spotlight one of Tokusatsu's kings, Eiji Tsuburaya, the quiet pioneer who created Ultraman, co-created Godzilla, and brought Tokusatsu to the global cinematic mainstream. Doodler Jennifer Hom led us through the inspiration behind the interactive Doodle:
Who was Tsuburaya, and what drew you to create this tribute to him?
"Director Eiji Tsuburaya is best known for the famous characters he brought to life, like Ultraman. After many years in the 'monster business,' he set up his own practical effects studio, Tsuburaya Productions, which we were lucky enough to visit for this project! Having grown up as a film fan, I've always had a deep love for Tokusatsu, so I was eager to find a way to bring attention to Tsuburaya's art. It's fascinating to me how long-lasting the results of his work has been – it's easy to see remnants of the Tokusatsu style in Guillermo del Toro's Pacific Rim, Evangelion, and even the Power Rangers."

------
Scott Green is editor and reporter for anime and manga at geek entertainment site Ain't It Cool News. Follow him on Twitter at @aicnanime.