Marking the best 1st week sales in the franchise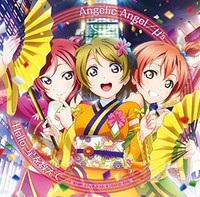 Even though taking the top spot for five consecutive days in the daily chart from July 1 to 5, "Angelic Angel/Hello. Hoshi wo Kazoete," the 1st insert song CD single for the all-new feature film Love Live! The School Idol Movie, has to settle down for second in the most recent Oricon weekly single chart with a total of 82,000 copies. But at least it marks the best first week sales and ranking for a CD single from the franchise.
The top-selling single of the week is Johnny & Associates' boys idol group Sexy Zone's 9th single "Cha-Cha-Cha Champion" with 108,000 copies. The song will be used as the theme song for 2015 FIVB Volleyball Women's World Cup.
The second insert song single from the film, "SUNNY DAY SONG/?←HEARTBEAT" is scheduled to be
released on July 8, then the third single "Bokutachi wa Hitotsu no Hikari/Future style" will follow on July 15.
"Angelic Angel"
CD jacket
"SUNNY DAY SONG/?←HEARTBEAT" CD jacket
"Bokutachi wa Hitotsu no Hikari/Future style" CD jacket
Source: Oricon Style