SCHOOL-LIVE starts July 9 at 7:00am Pacific Time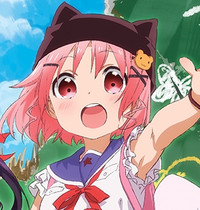 New hot 'n steamin' summer announcements continue to pour forth from Crunchyroll today, and the latest title to emerge is SCHOOL-LIVE (aka Gakko Gurashi!) based on the manga of the same name.
SCHOOL-LIVE is set to broadcast every Thursday starting July 9 at 7:00am Pacific Time. For more information, visit www.crunchyroll.com/school-live.
SCHOOL-LIVE! story and background
Based on the manga Gakko Gurashi!, written by Norimitsu Kaiho and illustrated by Sadoru Chiba, SCHOOL-LIVE! Focuses on the lives of 4 girls who decide to stay over at school: Yuki Takeya, Kurumi Ebisuzawa, Yuri Wakasa, and Miki Naoki. Along with the school adviser Megumi Sakura, they suddenly find themselves to be the final survivors of a zombie attack, and continue to live and survive at the school.
The case features Inori Minase, also known as Asaku Mibu in Black Bullet, as Yuki, Ari Ozawa, who also voiced Chiyo Sakura in Monthly Girls' Nozaki-kun, as Kurimi, M.A.O., who was also Mizuki Misawa in Samurai Flamenco, as Yuri, Rie Takhashi, also known as Akane Uchida in Shirobako, as Miki, and Ai Koyano, who voiced Yukika Amami in MY love STORY!!, as Megumi.
SCHOOL-LIVE will be available to Crunchyroll members in the following territories: USA, Canada, Australia, New Zealand, South Africa, Latin America, Europe (excluding Germany and German-speaking territories), the Middle East, and North Africa.
---------
NEW MOTION MANGA!

4 new motion manga titles have also joined the Crunchyroll library today, and are available now to members WORLDWIDE except for China and Japan.


Even more exciting, many of these titles are manga that we currently have in our simulpub catalog, so if you've ever wanted to see your favorite manga in motion and with voices, check them out!


The Tenth Prism (Motion Manga)
A strong country, the "Kingdom of Bones" invades the world. A young man, Tsunashi, who is born to save the world as The Swordsman of Light agonizes over his fate. His powers are awakened with the sacrifice of the life of his best friend. Tsunashi begins his journey to fight against Kingdom of Bones alone. This epic fantasy is written by Masahito Soda.
Read the Manga version at http://www.crunchyroll.com/comics/manga/the-tenth-prism/volumes!


* * * * *

The Diary of Ochibi (Motion Manga)

Join Ochibi-san, Nazeni, and Pankui in their daily life as the seasons pass in Mametsubu-cho.

Read the Manga version at http://www.crunchyroll.com/comics/manga/the-diary-of-ochibi/volumes!


* * * * *

Kitakata Toshizou was a chef at the restaurant "Goryokakutei" in Hakodate! He helps restaurants that are on the verge of going under get back on their feet. But Toshizou's training all but a piece of cake: only those who can grasp their true potential can pass his strict training. What will the next restaurant be!


* * * * *

Zaizen Takashi passes his entrance exams as the top of the heap at Dojuku Gakuen, a 130-year old super-advanced institute of higher education. The day after the entrance ceremony, "the secret" of the school is revealed to him, which concerns the existence of an "investment club," consisting only of the top student. Young man! Learn how to invest and earn lots of money! The stock investments story about Zaizen from investment club begins.

Read the Manga version at http://www.crunchyroll.com/comics/manga/investor-z/volumes!
--------------
Patrick Macias is editor in chief of Crunchyroll News and Otaku USA magazine. He is also the author of the HYPERSONIC music club webcomic.