Containing 5 films and 2 OVAs released from 1995 to 2001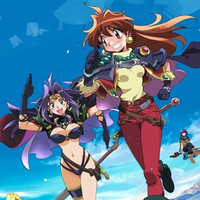 Japanese online retailers including Amazon Japan and Animate have listed the digitally-remastered Blu-ray box of the five anime films and two OVA series based on Hajime Kanzaka's popular light novel series in 1990s, Slayers, for a release on October 30, 2015. As reported, it was originally scheduled for February 27, 2015, but was cancelled three months before it. The reason for the cancellation was explained as "an issue on production" at the time.
This is the first time for the eight titles to get Blu-ray releases, following the DVD box in November 2006. The Blu-ray versions are newly remastered from the original 35mm negative films. The 41,040 yen (about 337 US dollars) set contains:
"Slayers Perfect" (1995 film)
"Slayers Return" (1996 film)
"Slayers Great" (1997 film)
"Slayers Gorgeous" (1998 film)
"Slayers Premium" (2001 film)
"Slayers Special" (1996 OVA: 3 episodes)
"Slayers Excellent (1998 OVA: 3 episode)
The novel's original illustrator Rui Araizumi provides its box illustration, while the anime character
designer/animation director Takahiro Yoshimatsu draws its digi-pack jackets. 68-page booklet,
newly-recorded audio commentaries by Megumi Hayashibara (Lina Inverse), Maria Kawamura (Naga
the White Serpent), Hiroshi Watanabe (the director of the anime series) and Takahiro Yoshimatsu,
and the original trailers/CMs are also included in the set.
Box illustration
Source: Amazon Japan, Animate
© Hajime Kanzaka, Rui Araizumi/"Slayers" Production Committee