Exhibit looking at manga storytelling opens August 1st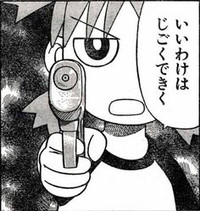 Along with the "Attack on Titan Exhibition - WALL OITA" exhibit, starting August 1st,the Oita Prefectural Art Museum in Oita City, Oita Prefecture, Kyushu, Japan will be hosting "Drawing Manga! - Lines, Panels, Kyara (Character)", a look at the techniques behind manga storytelling and their development. The visual for the exhibit features a team-up the titular leads of seinen manga powerhouses Golgo 13 and Yotsuba&!.
やっと大分の美術館が本気だしてきた pic.twitter.com/mPSiYixbu3

— 朽葉あさぎ (@kcba_asagi) July 6, 2015
大分県立美術館「描く!マンガ展」に、「よつばと!」も参加します。「よつばとダンボー展」に展示された「よつばと!」のパートをほぼそのまま再現しました。この機会に是非! 詳細はこちら→http://t.co/1UYir8atDR pic.twitter.com/ANHODM5yBa

— よつばとツイッター (@428and_tweet) July 10, 2015
The exhibit presents commentary from manga expert, mimic and ComiPro! developer Keiichi Tanaka on the concepts behind the works of the masters of the field and how the storytelling techniques were used in noted works.
Osamu Tezuka's Black Jack
Keiko Takemiya's Kaze to Ki no Uta
A-ko Musu
Daijirou Morohoshi's Mad Men; Ongoro Mask
Kazuhiko Shimamoto's Aoi Honoo/Blue Blaze
kouta Hirano's Hellsing
Peach-Pit's Shugo Chara
------
Scott Green is editor and reporter for anime and manga at geek entertainment site Ain't It Cool News. Follow him on Twitter at @aicnanime.