9th single "Harmonize Clover" hits stores August 19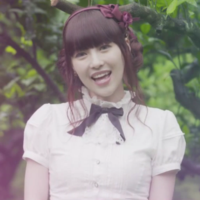 NBC Universal Entertainment Japan has posted a 15-second CM for 27-year-old singer Maon Kurosaki's upcoming 9th single "Harmonize Clover." It is now used as the ED song for the TV anime adaptation of the Gakkou Gurashi!/SCHOOL LIVE! moe-survival manga created by Nitroplus' Norimitsu Kaihou (story) and Sadoru Chiba (art). The single will be released in two editions on August 19.
The TV anime SCHOOL LIVE! premiered yesterday, and is now available to Crunchyroll members in the following territories: USA, Canada, Australia, New Zealand, South Africa, Latin America, Europe (excluding Germany and German-speaking territories), the Middle East, and North Africa.
"Harmonize Clover" CM
ハーモナイズ・クローバー、CMですこしPVが流れたね。見て欲しいポイントがいっぱいあるんだ。PVもたのしみにしててね! #がっこうぐらし pic.twitter.com/lISriqRVzB

— 黒崎真音@くろさきまおん (@kurosakimaon) July 9, 2015
CM for DVD/Blu-ray 1st volume to be released on September 26
Latest main visual
がっこうぐらし!キャラクターデザインの飯塚晴子さんによる「キービジュアル(壊)」を公開いたしました! #がっこうぐらし pic.twitter.com/8G7WPOFaWR

— TVアニメ『がっこうぐらし!』 (@gakkou_gurashi) July 9, 2015
via: Maon Kurosaki official Twitter
© NBC Universal Entertainment Japan
© Nitroplus/Norimitsu Kaihou, Sadoru Chiba, Houbunsha