Prestigious North America comics awards announced at Comic-Con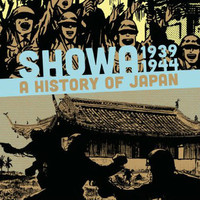 The North American comic industry has presented the winner of its prestigious Eisner Awards during a gala ceremony on Friday, July 10 at Comic-Con International: San Diego. The prize of the manga-dominated (and this year manga-exclusive) Best U.S. Edition of International Material—Asia category went to Drawn & Quarterly's release of Showa 1939–1943 and Showa 1944–1953: A History of Japan, by Shigeru Mizuki, an autobiographical look at Japan's World War II years from the author known for his classic kid's horror manga Gegege no Kitaro.
Showa 1939–1944: A History of Japan by Shigeru Mizuki
Showa 1939-1944: A History of Japan continues award-winning author Shigeru Mizuki's autobiographical and historical account of Showa era Japan. This volume covers the final moments of the lead-up to World War Two and the first few years of the Pacific War; it is a chilling reminder of the harshness of life in Japan during this highly militarized epoch.

In Showa 1939-1944, Mizuki writes affectingly about the impact on the Japanese populace of world-changing moments including the devastating Second Sino-Japanese War, the attack on Pearl Harbor, and the first half of the Pacific War. On a personal level, these years mark a dramatic transformation in Mizuki's life, too – his idyllic childhood in the countryside comes to a definitive end when he's drafted into the army and shipped off to the tiny island of Rabaul in Papua New Guinea. His life becomes a constant struggle for survival, not only against the constant Allied attacks but because he must face the harsh discipline of the Japanese army officers. During his time in Rabaul, Mizuki comes to understand the misery and beauty of the island itself—a place that will permanently mark him and haunt him for the rest of his life.
Showa 1944–1953: A History of Japan by Shigeru Mizuki
Showa 1944–1953: A History of Japan continues award-winning author Shigeru Mizuki's autobiographical and historical account of the Showa period in Japan. This volume recounts the events of the final years of the Pacific War, and the consequences of the war's devastation for Mizuki and the Japanese populace at large.
After the surprise attack at Pearl Harbor, Japan and the United States are officially at war. The two rival navies engage in a deadly game of feint and thrust, waging a series of microwars across the tiny Pacific islands. From Guadalcanal to Okinawa, Japan slowly loses ground. Finally, the United States unleashes the deathblow with a new and terrible weapon—the atomic bomb. The fallout from the bombs is beyond imagining.
On another front, Showa 1944–1953 traces Mizuki's own life story across history's sweeping changes during this period, charting the impact of the war's end on his life choices. After losing his arm during the brutal fighting, Mizuki struggles to decide where to go: whether to remain on the island as an honored friend of the local Tolai people or return to the rubble of Japan and take up his dream of becoming a cartoonist. Showa 1944–1953 is a searing condemnation of the personal toll of war from one of Japan's most famous cartoonists.
Other nominees included
All You Need Is Kill, by Hiroshi Sakurazaka, Ryosuke Takeuchi, Takeshi Obata & yoshitoshi ABe (VIZ)
In Clothes Called Fat, by Moyoco Anno (Vertical)
Master Keaton, vol 1, by Naoki Urasawa, Hokusei Katsushika, & Takashi Nagasaki (VIZ)
One-Punch Man, by One & Yusuke Murata (VIZ)
Wolf Children: Ame & Yuki, by Mamoru Hosada & Yu (Yen Press)
Massive: Gay Erotic Manga and the Men Who Make It, edited by Anne Ishii, Chip Kidd, & Graham Kolbeins from Fantagraphics was also nominated for Best Anthology.
See a full list of winners here.
------
Scott Green is editor and reporter for anime and manga at geek entertainment site Ain't It Cool News. Follow him on Twitter at @aicnanime.