Ikkyuu Juku will reprise his role as Aramaki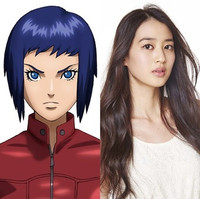 It was announced at the press conference yesterday that 22-year-old actress/fashion model Kaede Aono will play Motoko Kusanagi in the upcoming stage play adaptation of the four-part film series Ghost in the Shell: Arise. 169cm-tall Aono started her karate lesson when she was the first grade at elementary school, then acquired black belt at age of 12. She made her screen debut in the 2014 martial art film High Kick Angels, then recently played Ran in the BLOOD-C ~The LAST MIND~ stage play early this month.
It was also confirmed that 65-year-old Ikkyu Juku, who voiced Daisuke Aramaki in the Arise anime series, will play the character in the stage play as well. 29-year-old Ren Yagami, who is 183cm-tall and known as Seiichi Yukimura in The Prince of Tennis musical series, is cast as Batou.
39-year-old film director Shutaro Oku, who worked with Aono in Blood-C The Last Mind, attaches to direct.
Junichi Fujisaki, previously joined the 2002-2003 TV series Ghost in the Shell: Stand Alone Complex, provides
the script. It is scheduled to be performed at Tokyo Metropolitan Theater Playhouse from November 5 to 15.
[エンタメ]舞台版「攻殻機動隊」キャスト発表!イケメン&美女ぞろいの若々しい舞台に! http://t.co/OvtMAXba9f pic.twitter.com/12BXBpfUw8

— シネマトゥデイ (@cinematoday) July 14, 2015
Announced cast:
Motoko Kusanagi: Kaede Aono
Batou: Ren Yagami
Togusa: Kentaro Kenzaki
Daisuke Aramaki: Ikkyu Juku
Ishikawa: Tatsuya Isaka
Paz: Katsuhiko Ibuka
Saito: Ryunosuke Matsumura
Borma: Yu Matsuzaki
Ibachi: Shungo Takasaki
Kurutsu: Asana Mamoru
Thied: Asami Yoshikawa
Tsuda Ema: Misaki Momose
Hose: Keisuke Minami
Motoko Kusanagi/Kaede Aono
Clip from "High Kick Angels"
Her training for the film
via: Cinema Today
© Masamune Shirow, Production I.G/Kodansha, "Koukaku Kidoutai Arise" Production Committee