Series of variant superhero comic covers coming next month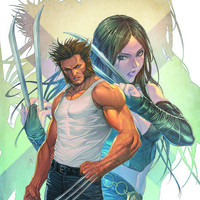 In May, Marvel Comics announced their solicitation material for their August 2015 releases. Noteworthy to fans of Japanese media, over 20 issues from the home of the Avengers and X-Men are being offered with special "manga variant covers," all of which were currently being credited to TBA. With today's new previews, most have now been revealed.
The latest include:
Ant-Man: Last Days variant cover by Q Hayashida (Dorohedoro)
Guardians of Knowhere #3 cover by Yasuhiro Nightow (Trigun, Blood Blockade Battlefront)
Silk #7 variant cover by Gurihiru
Weirdworld #4 by Ken Niimura
Old Man Logan #4by Homare
A-Force #4 by Toshirou
Spider-Island by Yusuke Murata (One-Punch Man, Eyeshield 21)
All-New Hawkeye #5 by Chiki Ogata (Landreaall )
Planet Hulk #4 by Imaishi Hiroyuki (Kill La Kll)
Previously showcased ones include
GROOT #3by Superlog
【宣伝】Marvelさんから8月頭にでる「Manga Variant Cover(http://t.co/T3TfQqmufZ)」シリーズでガーディアン・オブ・ギャラクシーのキャラクター、「グルート」の表紙をやらせていただきました! pic.twitter.com/kvAeRI8AKN

— スーパーログ (@superlog) July 11, 2015
ULTIMATE END #4 by Karmome Shirahama (Endevi)
お知らせです。アベンジャーズでお馴染みのMARVELさんから8月に発売されるマンガ・バリアントカバーというシリーズで、ULTIMATE END #4の表紙にDr.ストレンジを描かせていただきました! pic.twitter.com/1x1QsTZu3z

— 白浜鴎 (@shirahamakamome) July 11, 2015
Amazing Spider-Man: Renew Your Vows #4 by Yusuke Murata (One-Punch Man)
Civil War #3 by Katsuya Terada (The Monkey King, Blood the Last Vampire)
Other titles to be featured include
Deadpool's Secret Secret Wars #4
House of M #1
Inhumans: Attilan Rising #4
Ms. Marvel #18
Squadron Sinister #3
Thors #3
X-Men '92 #3
via Newsarama, Comic Book Resources and Comic Book.com
------
Scott Green is editor and reporter for anime and manga at geek entertainment site Ain't It Cool News. Follow him on Twitter at @aicnanime.