Two CD singles will be released simultaneously on August 26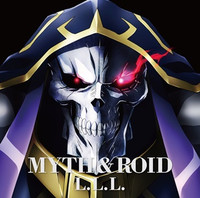 Following the 15-second CMs released last week, Media Factory has also posted short music videos for the OP and ED song for the TV anime adaptation of Kugane Maruyama's dark fantasy light novel series Overlord. The OP song "Clattanoia" is performed by OxT (Masayoshi Oishi x [email protected]), while ED song "L.L.L." is provided by [email protected]'s contemporary creative unit MYTH & ROID featuring vocalist Mayu. The title of the ED song stands for Leashed Luminant Love.
The CD singles for both songs will be simultaneously released on August 26.
OP song "Clattanoia" MV
CD jacket
ED song "L.L.L." MV
CD jacket
TV anime main visual
© Kugane Maruyama, Kadokawa/Overlord Production Committee