Directed by Shunsuke Kariyama (Youkai Ningen Bem)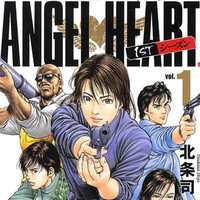 It is confirmed that a live-action TV drama adaptation of Tsukasa Hojo's Angel Heart manga series is in the works. Its story is set in a parallel world of the author's another popular series City Hunter, where the original heroine Kaori Makimura is already dead (not a direct sequel to the original City Hunter story). It features a new heroine Xiang-Ying who has the transplanted heart of Kaori.
The first season of the manga was serialized in Shinchosha's Comic Banchi from 2001 to 2010, then compiled in 33 tankobon volumes. The second season has been running in Tokuma Shoten's Monthly Comic Zenon since 2010 and currently 11 volumes are available.
The TV series is directed by Shunsuke Kariyama, who is best known for his works for the TV drama and film adaptation of the Japanese horror anime series in the late 1960s, Youkai Ningen Bem. Yuya Takahashi, recently worked for The File of Young Kindaichi N TV drama, provides scripts. It is scheduled
to premiere on Nihon TV and its affiliates in October 2015.
1st season 1st volume (new edition) and 2nd season 1st volume
Source: Comic Natalie