Based on an original story by the manga author Kazuki Takahashi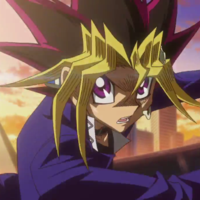 The official website for the upcoming all-new anime film Yu-Gi-Oh! The Dark Side of Dimensions today posted a 50-second teaser introducing its main characters. You can find Yugi Mutoh, Kaiba Seto, Katsuya Jounouchi, Anzu Mazaki, Ryo Bakura, Hiroto Honda, and a mysterious boy who is also featured in the poster visual.
Yu-Gi-Oh! The Dark Side of Dimensions, which will tell an "after episode" of the original story, is set for a release in the Golden Week period (around the end of April and beginning of May) of 2016 in Japan. The original manga creator Kazuki Takahashi has provided the screenplay and original character designs, and has served as executive producer. Satoshi Kuwahara, the director of the fifth TV anime series Yu-Gi-Oh! Zexal, attaches to direct.
Teaser
Poster visual
via: Cinema Today
© Kazuki Takahashi, Studio Dice/Movie Yu-Gi-Oh! Production Committee 2016