Plus "Detective versus Detectives" Drama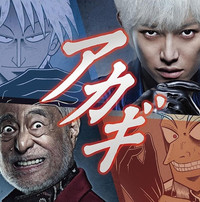 A pair of high rollin' J-dramas are set to begin streaming soon on Crunchyroll: the live action version of Akagi, based on the hit manga by Nobuyuki Fukumoto and the suspenseful Detective versus Detectives....
Akagi live-action drama will be coming to Crunchyroll with Episode 1 airing on Saturday at 9am for users in the following territories: United States (and its territories), Canada, Central and South America (including the Caribbean), South Africa, Australia and New Zealand, Russia, Europe, the Middle East, and North Africa.
Akagi story
Tokyo, 1958. A man seriously gambles at a mahjong parlor. He's playing against members of the Ryuzaki yakuza clan. If he loses, he must pay his debt through his own life insurance – truly a game of life and death. With his own existence at stake, he can only play passively, and the game comes to a head. Suddenly, a mysterious boy appears. His name is Akagi, a thirteen-year-old kid. The man senses a strong aura around the youth and decides to have Akagi substitute for him in the next round.
Detective versus Detectives story and background
The drama is based on a new series written by Keisuke Matsuoka, author of the "All-Round Appraiser Q" and "Clairvoyant" series which have racked up over 10 million sales, called "Detective versus Detectives," which has solder over 400 million copies. The unusual story following detectives who investigate detectives is written with a high level of realism based in thorough research of the "Detective Industry Law" regulating the business, and the sheer speed and scale of this masterful suspense series captures the minds of its readers. The countless layers of plots and constant stream of unpredictable turns that left readers unable to put the books down has been translated into TV with intense action scenes and a fresh presentation.


Keiko Kitagawa plays Rena Sasaki, a detective who risks her life investigating detectives for her dead sister. Beautiful, intelligent, and with a great memory, the talented woman judges situations and chooses the most appropriate course of action. Her brutal past surrounding her sister's death inspires her to learn everything she can about detectives, leading her to visit the Suma Research Company. After training for two years at the company's PI school, she enters the company in April 2013. As the sole member of the Anti-Detective Department responsible for investigating and pursuing unethical detectives, she is a solitary lady detective.
Detective versus Detectives is available for members in the following territories: USA, Canada, Latin America, South Africa, Australia, New Zealand, and Europe (except for Russia).


Episode 1 will be available tomorrow at 1pm Pacific Time, with episode 2 launching next week and Episode 3 available at its regular time on Saturday at 1pm Pacific Time.
------
Patrick Macias is editor in chief of Crunchyroll News and Otaku USA magazine. He is also the author of the HYPERSONIC music club webcomic.