TV anime's 1st episode has been viewed over 1.5 million times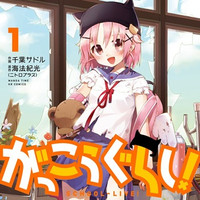 As you know, the main purpose of producing a TV anime adaptation is to push the sales of its source material: manga, light novel, social game, etc. This summer's TV anime adaptation of Gakkou Gurashi!/School-Live! moe-survival manga has become the best example of the business strategy.
The TV anime produced by Lerche premiered in Japan on July 9. According to the July 18 report by Hon no Hikidashi, the official news site owned by Nippan/Nippon Shuppan Hanbai, one of the biggest book distributors in Japan, the sales of the based manga's first volume in the week of July 6-12 increased about 10 times more than the previous week of June 29 to July 5. The anime's first episode has already been viewed over 1.5 million times on Nico Nico Douga. It has worked as a very good promotional tool for the publisher.
The manga created by Nitroplus' Norimitsu Kaihou (story) and Sadoru Chiba (art) has been serialized in
Houbunsha's Manga Time Kirara Forward since its July 2012 issue, and the latest sixth tankobon volume
is set to be released on August 11. The TV anime is now available to Crunchyroll members in the following
territories: USA, Canada, Australia, New Zealand, South Africa, Latin America, Europe (excluding Germany
and German-speaking territories), the Middle East, and North Africa.
Manga tankobon 1st and 2nd volume covers
Source: Hon no Hikidashi
© Nitroplus/Norimitsu Kaihou, Sadoru Chiba, Houbunsha