All of the four main cast of the 1980's-90's series will come back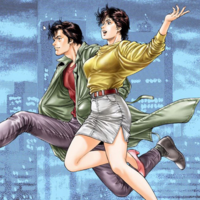 It has been confirmed that the upcoming new anime based on Tsukasa Hojo's City Hunter manga series is produced by Tokyo-based anime/CG production company Kamikaze Douga, recently highly acclaimed for its TV anime adaptation of Hirohiko Araki's JoJo's Bizarre Adventure. Sunrise animated the past anime series in the 1980's-90's.
It will be released as a bonus OAD for the purchasers of all 12 volumes of the manga's new edition series "City Hunter XYZ Edition." The first two volumes were just released in Japan on July 18, and its promotional video is now online.
The OAV story focuses on the protagonist Ryo Saeba's marriage proposal to the main heroine Kaori Makimura. All of the four original voice cast of the previous series: Akira Kamiya (Ryo Saeba), Kazue Ikura (Kaori Makimura), Yoko Asagami (Saeko Nogami) and Tessho Genda (Umibouzu) will reprise their
roles for the special episode after 16 years.
"City Hunter XYZ Edition" PV
1st and 2nd volume covers
"Ryo's Proposal" disc image
Source: Mantan Web
(C) Tsukasa Hojo/NSP 1985