At this month's Anime Expo and San Diego Comic Con, Tokyopop's Stu Levy sketched out plans for publisher's return to North America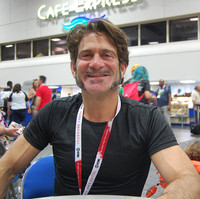 At this month's Anime Expo and San Diego Comic Con, Tokyopop's Stu Levy sketched out the manga boom fixture's plans to get back into North American publishing, highlighted by the suggestion that they'll be working on Disney properties. While there is reportedly nothing finalized and no contracts signed, silhouettes of Star Wars and Frozen suggested that titles like those will be part of their plans to return from the 2011 shutdown of regional print operations.
Brigid Alverson at Comic Book Resources spoke to Levy, who explained that his plans for Tokyopop are threefold: Licensed Japanese manga, graphic novels based on brands, and new products based on Tokyopop's existing global manga properties.
On what to expect from new manga licenses, Levy explained that "The big, big, big, titles are taken by the big guys like Kodansha and the Viz parent companies -- Shueisha, Shogakukan." Instead, Tokyopop will be looking for series from smaller publishers, and hopefully getting suggestions from fans.
In terms of finishing series that they previous left incomplete, Levy said that many of the series are no longer available, and many were not profitable to begin with. "Bringing back a title that is not profitable is not going to make anybody happy."
And on the subject of creating original work based on licensed properties, "We will be working with amazing artists who will most likely be trained in the school of manga," he said. "I don't think ethnicity or nationality is a requirement, but the chances are pretty good that means they were probably trained in Asia and most likely Japan -- but you never know, there may be exceptions. And then writer-wise, we are going to find the best writers for the project who really know the subject matter and are passionate and are really open minded about storytelling... I think that crossing cultures is certainly what I have always been interested in, and I believe that our world today is more than ever accepting of that."
read more on Comic Book Resources
------
Scott Green is editor and reporter for anime and manga at geek entertainment site Ain't It Cool News. Follow him on Twitter at @aicnanime.