Mitsujiro Hashimoto-directed film is set for December 12, 2015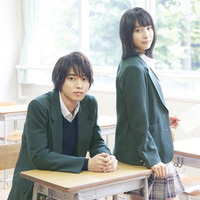 The official website for the upcoming live-action film adaptation of Ichigo Takano's shoujo manga series Orange has announced its main cast and release schedule. 20-year-old actress/fashion model Tao Tsuchiya is cast as the 16-year-old protagonist girl Naho Takamiya, alongside Kento Yamazaki as her love interest Kakeru Naruse. The two are currently also playing a married couple in Mare, the 92nd NHK morning drama.
Mitsujiro Hashimoto, who has been working on critically-acclaimed TV drama series such as Suzuki-sensei (TV Tokyo, 2011) and Sprout (Nihon TV, 2012), makes his feature film directorial debut. Arisa Kaneko (Densha Otoko, Rough, Helter Skelter) provides the screenplay. The shooting is scheduled to begin in Matsumoto-city, Nagano Prefecture, where the manga story also took place, late next month. After a very short three-month and half production period, the film will be released on December 12.
Announced cast:
Naho Takamiya: Tao Tsuchiya
Kakeru Naruse: Kento Yamazaki
Hiroto Suwa: Ryo Ryusei
Takako Chino: Hirona Yamazaki
Saku Hagita: Douri Sakurada
Azusa Murasaka: Kurumi Shimizu
Kento Yamazaki as Kakeru Naruse, Tao Tsuchiya as Naho Takamiya
Tankobon 1st volume
via: Comic Natalie
(c) 2015 "orange" Production Committeee (c) Ichigo Takano/Futabasha