Yusuke Kobayashi voices the protagonist Ren Honoo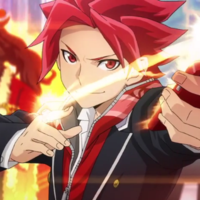 The official website for the upcoming anime adaptation of Mixi's mega hit action RPG for iOS/Android, Monster Strike, launched today, announcing that it will premiere on YouTube worldwide with multilingual support (Japanese, English, Chinese, Korean) on October 10, 2015. A seven-minute episode will be posted every Saturday. The game has attracted over 20 million registered users in Japan since its launch in September 2013, and also has been available in Taiwan, Korea, Hong Kong, China, Macau, and North America.
30-year-old voice actor Yusuke Kobayashi, currently voicing Arslan in The Heroic Legend of Arslan, is cast as the protagonist Ren Honoo. Jun Fukushima, best known as Shoukichi Naruko in Yowamushi Pedal, plays a mascot character Oragaon.
PV
Main staff:
Director: Kazuya Ichikawa (president of anime production company Domerica)
Story/Project Management: Jiro Ishi (Nintendo 3DS game Time Traveler)
Series Composition/Scenario: Youichi Kato (Yo-Kai Watch, Aikatsu!)
Character Concept Design: Tatsuro Iwamoto (Ace Attorney)
Production: Studio Hibari/Ultra Super Pictures
Main voice cast:
Ren Honoo: Yusuke Kobayashi
Oragon: Jun Fukushima
TBA: Lynn (Maya Kyoudo in Sabagebu!)
via: Social Game Info
©mixi, Inc.