25-episode series will run till September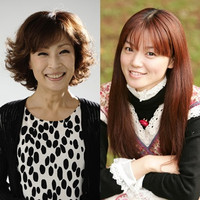 The official website for the ongoing TV anime adaptation of Rumiko Takahashi's latest manga work Kyoukai no Rinne/Rin-ne today announced two additional voice cast, Fumi Hirano as the main heroine Sakura's mother and Aya Endo as Kain's mother.
60-year-old Hirano is best known as Lum in the Urusei Yatsura anime series in the 1980s, based on Takahashi's first hit series. 39-year-old Endo's most well-known anime character is Sheryl Nome in Macross Frontier. Kain's mother will join the Rin-ne TV anime from its 18th episode to be aired on August 1, then Sakura's mother will appear from its 20th episode two weeks later.
Fumi Hirano/Sakura, Sakura's mother
Aya Endo/Kain's mother
Source: "Kyoukai no Rinne" TV anime official website, NHK Anime World+Blog
© Rumiko Takahashi, Shogakukan/NHK, NEP, ShoPro