2014 film adaptation of "All You Need Is Kill" novel met with lukewarm US box office reception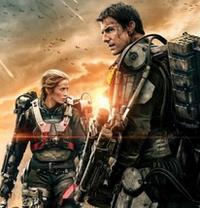 During the New York premiere for the forthcoming "Mission Impossible: Rogue Nation", Tom Cruise was recently interviewed by MTV News for the film when the subject of Edge of Tomorrow came up and this is what he had to say on the possibilities for a sequel:
I pitched it to [screenwriter Christopher] McQuarrie and [director] Doug [Liman]. We were there one night and I was like, "I've got an idea for it." It could be so much fun. Gotta get Emily. I was like "Emily, please." She was like, "Give me another year, please."
The film made a total of $369 million on a budget of $178 million and was one of the first projects to go through the Viz Pictures production office. While the film suffered from a lukewarm reception by US moviegoers and only made $99 million over its domestic theatrical run, critical reception to the film was surprisingly positive, with Cruise and Blunt both being praised for their roles as Lt. Col. Bill Cage and Rita Vrataski, while also praising the film for keeping the dark humor present in the original novel.
With author Hiroshi Sakurazaka also said to be writing the direct sequel to the All You Need Is Kill novel, one wonders what Cruise has in store for a sequel, since the first film handled the alien invasion plot without much of an opening for a second film and he was coy on what ideas he had for the sequel. Since I loved the first film but detested the confusing marketing, what would you expect to see in a possible sequel?
---
Humberto Saabedra is the Owner of AnimeNews.biz and a part-time recording engineer. He can also be found musing on things at @AnimeNewsdotbiz