Yuuki Kaji, Mamoru Miyano, Daisuke Namikawa, Miyuki Sawashiro join the cast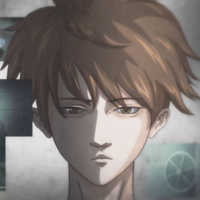 Fuji TV will start streaming a new original web anime series Osiris no Tenbin (Osiris' Balance) via its streaming site FOD/Fuji TV On Demand from 00:00 am on August 1 (JST). The story features conversations between a mysterious nameless assassin and his targets. The five-minute series is scheduled to run for 10 episodes. Yusuke Fujikawa (Nobunaga Concerto) attaches to direct.
The assassin has lost most of his internal organs in his left half body for some reason, so he is physically very weak, not good at martial art or gun shooting. But he has one special ability, a very small psychokinesis power, that makes him a very unique killer. He destroys only the target's brain with his power, then provides their organs for transplantation. Before taking their lives, he always has conversations with them to find out if they are truly deserved to die.
Main voice cast:
Yuuki Kaji (Eren Yeager in Attack on Titan)
Yoshimasa Hosoya (Asahi Azumane in Haikyu!!)
Ryohei Kimura (Ryota Kise in Kuroko's Basketball)
Kenichi Suzumura (Sougo Okita in Gintama)
Daisuke Namikawa (Goemon Ishikawa in Lupin The Third)
Mamoru Miyano (Light Yagami in Death Note)
Jun Fukuyama (Lelouch Lamperouge in Code Geass)
Miyuki Sawashiro (Towa/Cure Scarlet in Go! Princess PreCure)
Source: press release