Wish they would have had these when I was a kid!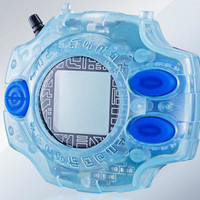 The Digimon Adventure tri Complete Selection Animation Digivice is absolutely gorgeous. That's probably why Bandai began showing off a commercial that details the updated device.
It features a clear body, special LED lights, mirror screen, and several voice clips from the official Digimon series.
The commercial shows off the sound effects and features you can expect from the device, which is going for 7,030 yen (about $57) and releases later this year. Preorders are open now and going until September. You won't be able to expect the products coming until December, but that's not that long to wait, especially for such an awesome and detailed product! There'll be a second round if you miss it the first time, but best to jump on it now if you're interested.
[via Anime News Network]
-------
Fueled by horror, rainbow-sugar-pixel-rushes, and video games, Brittany is a freelancer who thrives on surrealism and ultraviolence. Follow her on Twitter @MolotovCupcake and check out her portfolio for more.