Tetsuro Amino (Macross 7, Hiwou War Chronicles) serves as general director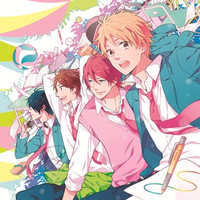 It is officially announced today in Japan that a TV anime adaptation of Minami Mizuno's Nijiiro Days comedy manga series is in the works by Production Reed (Magical Princess Minky Momo, Dancouga – Super Beast Machine God), and its official website also opens. The eight voice cast who previously performed for the drama CD which was bundled with the manga's 7th tankobon volume published in November 2014 will reprise their roles in the TV anime. Its on-air schedule has not yet been confirmed.
The manga featuring everyday life of four high school student boys has been serialized in Shueisha's Bessatsu Margaret monthly shoujo manga magazine since 2012 and the latest 10th tankobon volume is scheduled to be released on September 10.
Main Voice Cast:
Natsuki Hashiba: Yoshitsugu Matsuoka (Kirito in Sword Art Online)
Tomoya Matsunaga: Takuya Eguchi (Asemu Asuno in Mobile Suit Gundam AGE)
Keiichi Katakura: Nobunaga Shimazaki (Haruka Nanase in Free!)
Tsuyoshi Naoe: Kouki Uchiyama (Banagher Links in Mobile Suit Gundam Unicorn)
Anna Kobayakawa: Minami Tsuda (Yui Funami in Yuruyuri)
Mari Tsutsui: Yumi Uchiyama (Davi/DB in Dokidoki! PreCure)
Nozomi Matsunaga: Ai Kayano (Meiko "Menma" Honma in Anohana)
Yukiko Asai: Shizuka Ishigami (Ikumi Mito in Shokugeki no Soma)
Main Staff:
General Director:Tetsuro Amino (Macross 7, Hiwou War Chronicles)
Director: Tomihiko Ohkubo (Tokyo ESP, Toriage X episode director)
Series Composition: Aki Itami (The Flowers of Evil, The Comic Artist and Assistants)
Anime Production: Production Reed (Magical Princess Minky Momo, Dancouga – Super Beast Machine God)
Tankobon 1st and 9th volume
via: Comic Natalie
© Minami Mizuno/Shueisha
© Minami Mizuno/Shueisha, "Nijiiro Days" Project