Meet younger versions of Eren, Mikasa and Armin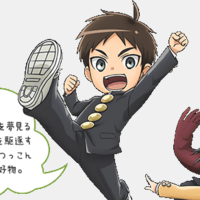 You may know the cast of Attack on Titan, but are you familiar with their younger incarnations? Hyping this fall's Production I.G anime adaptation of Saki Nakagawa's Attack on Titan: Junior High spin-off manga, the series' Twitter feed has started introducing the members of Titan Jr. High beginning with the principals.
Eren Yeager - driven by this dream of expelling the Titan from the world, he's given to breaking school rules. His favorite food is cheeseburgers.
【キャラクター設定解禁①~エレン・イェーガー~】 世界中から巨人を駆逐することを夢見る少年。猪突猛進ぎみで、巨人を駆逐するためなら校則も完全無視でつっこんでいく。チーズハンバーガーが大好物。#kyojinchu #shingeki pic.twitter.com/9lvpTBedJO

— アニメ「進撃!巨人中学校」公式アカウント (@anime_kyojinchu) August 11, 2015
Mikasa Ackerman - Eren's childhood friend, who's only interested in him. Her amazing physical abilities are reduced down to 30% and she oozes a spirit of melancholy when he's not with her.
【キャラクター設定解禁②~ミカサ・アッカーマン~】 エレンの幼馴染。基本、エレンにしか興味がない。運動神経は抜群ながら、朝から一定時間エレンと離れていると本来の30%まで能力が低下し、哀愁を漂わせる。#kyojinchu pic.twitter.com/miXPQDc7SN

— アニメ「進撃!巨人中学校」公式アカウント (@anime_kyojinchu) August 11, 2015
Armin Arlert - intelligent, but weakened by a susceptibility to cold. Wears around bedding to avoid getting sick.
【キャラクター設定解禁③~アルミン・アルレルト~】 エレンの幼馴染。頭脳明晰。しかし極度の寒がりで、暖房がきき過ぎてるくらいの部屋でもまだ寒い。布団がないとすぐに風邪をひくため、布団が手放せない。#kyojinchu pic.twitter.com/WzEVq6p3iw

— アニメ「進撃!巨人中学校」公式アカウント (@anime_kyojinchu) August 11, 2015
The show's returning cast includes:
Yūki Kaji as Eren Jaeger.
Yui Ishikawa as Mikasa Ackerman.
Marina Inoue as Armin Artleit.
Kishō Taniyama as Jean Kirschtein.
Yū Shimamura as Annie Leonhardt.
Yū Kobayashi as Sasha Braus.
Shiori Mikami as Christa Renz.
Hiro Shimono as Connie Springer.
Ryōta Ōsaka as Marco Bodt.
Yoshimasa Hosoya as Reiner Braun.
Tomohisa Hashizume as Bertholdt Hoover.
Saki Fujita as Ymir.
Hiroshi Kamiya as Levi.
Daisuke Ono as Erwin Smith.
Romi Park as Hanji Zoe.
Susumu Chiba as Eld Gin.
Shinji Kawada as Oruo Bozad.
Kōzō Mito as Günther Schultz.
Natsuki Aikawa as Petra Ral.
Michiko Kaiden as Rico Brzenska.
And Kenta Miyake as Mike Zacharius.
The show's staff includes:
Direction: Yoshihide Ibata
Series composition: Midori Gotou
Character design: Yuuko Yahiro
Music: Asami Tachibana
Art setting: Kenichi Morioka
Art direction: Kazuhiro Arai
Color key: Makiko Suzuki
Director of photography: Tetsuya Takahashi
Editing: Taeko Hamauzu
Sound direction: Masafumi Mima

------
Scott Green is editor and reporter for anime and manga at geek entertainment site Ain't It Cool News. Follow him on Twitter at @aicnanime.