Directed by Kazuhide Tomonaga ("The Plot of the Fuma Clan" character designer)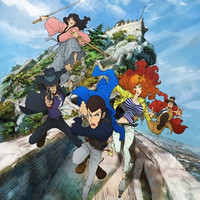 The official website for the upcoming new Lupin the Third TV anime series has updated with the announcements for its main voice cast and TV stations in Japan for an October premiere. All of the recent five VAs, including 82-year-old Kiyoshi Kobayashi as Daisuke Jigen, will reprise their roles.
After three previous VAs for Goemon, Fujiko and Zenigata left the series due to their age (they are in their 70s and 80s) in 2011, Kobayashi is now the last remaining original voice cast since the first TV series aired in 1971-1972. Meanwhile, the VA for the new main character Rebecca Rossellini has not yet been revealed.
The new Lupin the Third TV anime will premiere on Nihon TV, Yomiuri TV, Miyagi TV, Chukyo TV, TV shinshu and TV Oita in October.
Announced main voice cast for the new season:
Arsène Lupin III: Kanichi Kurita (1995-)
Daisuke Jigen: Kiyoshi Kobayashi (1971-)
Goemon Ishikawa XIII: Daisuke Namikawa (2011-)
Fujiko Mine: Miyuki Sawashiro (2011-)
Inspector Koichi Zenigata: Koichi Yamadera (2011-)
新TVシリーズ「ルパン三世」日本テレビ、よみうりテレビほかにて10月放送開始!! 他地域の放送局や放送日時情報は公式HPにて随時更新予定です! http://t.co/ZqnPQNviEu #lupinIII_4th pic.twitter.com/eguVfm9em6

— アニメ「ルパン三世」公式アカウント (@lupinIII_4th) August 11, 2015
Latest main visual
Source: "Lupin The Third" New TV anime official website
Original Story: Monkey Punch©TMS