Shirts feature the smiling face of the series' Koro Sensei and the parody slogan "Keep Calm and Kill Your Teacher"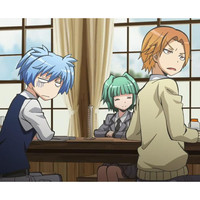 Yūsei Matsui's hit Shonen Jump series Assassination Classroom follows a middle school class who have one year to learn how to assassinate their alien teach or he'll annihilate Earth. The wait to see whether that premise would inspire any controversy in North America is now over as bootleg t-shirts featuring the smiling face of the series' Koro Sensei and the parody slogan "Keep Calm and Kill Your Teacher" have raised concern among teachers, parents and lawmakers.
One week after its launch, a Change.org user created petition calling on Amazon to stop selling the t-shirts is on course to pass its 10,000 signature goal within the next day.
Petition author Christine Russo of Brooklyn, NY explains:
What kind of message are we sending children when they sell a shirt that says keep calm and kill your teacher? Please sign this petition so hopefully amazon will take this shirt off their website. It is highly offensive. Teachers are the ones protecting students when crazed gunmen come into their school, and now they think students should kill them? This shirt needs to stop being sold immediately!
New York State Assemblyman Angelo Santabarbara from Schenectady is also decrying the t-shirt. Saying that it was brought to his attention by local parents and teachers.
"With a little bit of Googling it was amazing and I was shocked to see what I could find very easily just messages and images," said Santabarbara. "Certainly when children are exposed to messages like this it instills fear, it doesn't help to create a positive learning environment," said Santabarbara.
He then suggested alternatives, such as tops from a local busy that also denounced the Ansatsu Kyōshitsu bootlet.
"You don't have to wear that shirt, you can wear a P&P shirt you can wear a Schenectady, New York shirt," said Crowley.
via @MangaTherapy and Time Warner Cable News
------
Scott Green is editor and reporter for anime and manga at geek entertainment site Ain't It Cool News. Follow him on Twitter at @aicnanime.