Another Slime item to add to your collection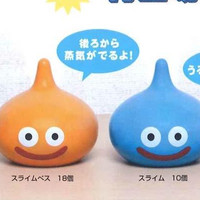 There are a ton of Slime items out there that you can spend your hard-earned cash on, but not every one of them is practical, believe it or not. This one in particular is great for keeping you warm, though, when the fall and winter season kicks off!
This Slime USB warmer is $23.90 and will help keep your hands (or whatever you put over the top of the device) warm for a long while. It can plug into any USB port and will be shipping late this December. You can go ahead and preorder here at NCSX, and get in your preorder early before more Dragon Quest fans get wind of it!
Make sure you stay warm and cozy this holiday season with one of Dragon Quest's cutest monsters.
[via Tiny Cartridge]
-------
Fueled by horror, rainbow-sugar-pixel-rushes, and video games, Brittany is a freelancer who thrives on surrealism and ultraviolence. Follow her on Twitter @MolotovCupcake and check out her portfolio for more.