Leather goods featuring Pikachu and Pichu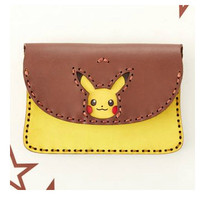 Ever wanted to get your hands on some unique and classy-looking Pokemon accessories? These leather designs from Ojaga Designs have you covered.
The company has come forth with an adorable line of items featuring Pikachu, Pichu, and other Pokemon-inspired pieces from pouches to keychains to change purses. There are a ton of different pieces from the collection, but they're very expensive if you're thinking about taking the plunge, from about $30 to $563 for a larger item.
Still, they're very simple and unique and look like they'd make great statement pieces.
[via Tiny Cartridge]
-------
Fueled by horror, rainbow-sugar-pixel-rushes, and video games, Brittany is a freelancer who thrives on surrealism and ultraviolence. Follow her on Twitter @MolotovCupcake and check out her portfolio for more.