Series kicks off in Italy on August 29th, then in Japan's fall TV season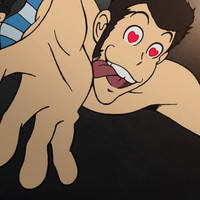 The new Lupin the Third TV anime, set in San Marino, kicks off in Italy on August 29th, then will be broadcast in Japan on Nihon TV, Yomiuri TV, Miyagi TV, Chukyo TV, TV shinshu and TV Oita in October. With the premiere coming soon, QuiMediaset_it has posted a gallery of the first episode, with its introduction of young Paris Hilton inspired heiress Rebecca Rossellini.
Last week's announcement confirmed that the series that al of the recent five VAs, including 82-year-old Kiyoshi Kobayashi as Daisuke Jigen, will reprise their roles.
After three previous VAs for Goemon, Fujiko and Zenigata left the series due to their age (they are in their 70s and 80s) in 2011, Kobayashi is now the last remaining original voice cast since the first TV series aired in 1971-1972. Meanwhile, the VA for the new main character Rebecca Rossellini has not yet been revealed.
This includes
Arsène Lupin III: Kanichi Kurita (1995-)
Daisuke Jigen: Kiyoshi Kobayashi (1971-)
Goemon Ishikawa XIII: Daisuke Namikawa (2011-)
Fujiko Mine: Miyuki Sawashiro (2011-)
Inspector Koichi Zenigata: Koichi Yamadera (2011-)
Kazuhide Tomonaga, who served as the character designer for the 1987
film The Plot of the Fuma Clan, directs it for TMS Entertainment.
#Lupin III (dal 30 agosto in 1° serata su #ItaliaUno) Alcuni dei nuovi personaggi (fotogallery): http://t.co/AoBskzLKtT

— QuiMediaset (@QuiMediaset_it) August 17, 2015
#Lupin III Anteprima per immagini della 1° puntata in onda il 30 agosto in 1° serata su #Italia1 (occhio: spoiler!!!) http://t.co/nkkk6a7tCH

— QuiMediaset (@QuiMediaset_it) August 10, 2015
Latest main visual
------
Scott Green is editor and reporter for anime and manga at geek entertainment site Ain't It Cool News. Follow him on Twitter at @aicnanime.