Stream time TBA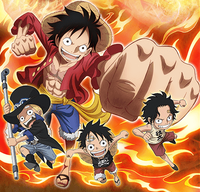 This is a late one but Crunchyroll is excited to announce that it will indeed simulcast the 2 hour TV special
One Piece - Episode of Sabo: Bond of Three Brothers - A Miraculous Reunion and an Inherited Will
this Saturday, August 22nd with the stream time to be announced soon. The special will be available to all members in the USA, Canada, South Africa, Australia, New Zealand, and Latin America. More specific details related to the special will also be announced soon. Keep checking Crunchyroll News for the latest details!
Explore the childhood bond between Luffy, Ace and Sabo as they aspired to become pirates. The TV special will introduce an original story (not shown in the anime or manga) told through Sabo's perspective of his visit to the grave of Whitebeard and Ace, infiltration of Dressrosa and reunion with Luffy.