Another adorable Taiko adventure!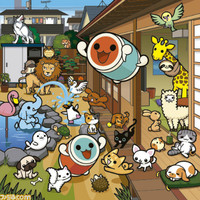 There's a brand new Taiko Drum Master game on the horizon, and it's coming to the Wii U! The latest installment is Taiko Drum Master: Atsumete Tomodachi Daisakusen!, and it's the third main Wii U game for the Taiko series.
It's not due out in Japan until November 26, but it'll come in a special edition and one with a new drum and sticks for those who still need the peripheral. If you're lucky enough to get a first-run copy, you get a special calendar, magnet set, rubber strap of Don-chan and Kacchan, and special items.
It's the 15th anniversary of the series as well, and because of this there's a special animated short that comes with the game from none other than Studio Ghibli!
Check out the game when it makes its debut, as it looks like it's going to be a nice mix of kawaii and rhythm just like the other games in the series. It's been some time since I was able to play any of them, so this might be a good place to get started again!
[via Gematsu]
-------
Fueled by horror, rainbow-sugar-pixel-rushes, and video games, Brittany is a freelancer who thrives on surrealism and ultraviolence. Follow her on Twitter @MolotovCupcake and check out her portfolio for more.