Director's cut edition will be released in Japan in October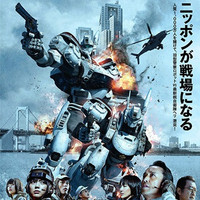 The 39th Montreal World Film Festival has announced that Mamoru Oshii's latest live-action feature film The Next Generation -Patlabor- Shuto Kessen/Tokyo War will be screened as one of 24 films of its World Greats section, which is dedicated for the latest works by the best known directors from around the world.
Canada's oldest international film festival will be held from August 27 to September 7. Patlabor Tokyo War is scheduled to be screened on August 29 and 30, and Oshii hilmself will join the second day. It will be the first overseas screening of the film.
According to the announcement, the edition to be screened at the festival is the 93-minute theatrical edition, which was released in Japan in May and terribly bombed at the box office. The director's cut edition which is more faithful to Oshii's original concept is scheduled to be released in Japan on October
10 with 27-minute footage deleted from the theatrical edition. Unfortunately, the audience at the festival
will not able to see the longer (and probably more deeply told) edition.
Theatrical edition trailer
Director's cut edition trailer
Poster visual
Source: press release
© 2014 "THE NEXT GENERATION -PATLABOR-" Production Committee